As technology continues to rapidly change in the automotive and collision worlds, three "mega-trends" continue to force customer service and product innovations, according to an article by Property Casualty 360.
The megatrends include artificial intelligence, mobility and the internet. Advanced technologies are changing the auto insurance business and reshaping how its sold and how claims are handled.
"Advances in digitalization, artificial intelligence, machine learning, the Internet of Things (IoT), sensor and camera technology are driving dramatic change and improvements in automotive technology," Susanna Gotsch, CCC Information Services industry analyst and director, wrote in the CCC report "Crash Course 2018." And these advances are creating a ripple effect throughout the entire automotive ecosystem."
Twenty automakers have already pledged to voluntarily equip virtually all new passenger vehicles with a low-speed AEB system by 2022. Together, these companies represent the vast majority of the U.S. auto market, according to the article.
The following chart from the article indicates where the 20 automakers are in implementing AEB systems into new vehicles.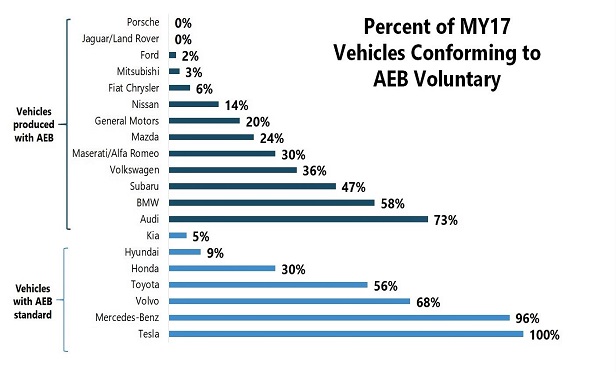 To read the full article, click here.